The 2020 US elections and Twitter
The election is happening –– and Twitter is focused on helping people find accurate information on Twitter, register to vote, better understand the voting process, and feel informed about the choices on their ballot to help empower every eligible person to vote in the 2020 US election. This information has never been more important as more people seek ways to safely cast their vote amid the COVID-19 pandemic. 
On Twitter you'll find real-time political conversation, resources, and breaking news. And an essential part of our service is taking action on content that attempts to manipulate, disrupt, or cause confusion about civic processes. Read on to see a comprehensive look at we're doing.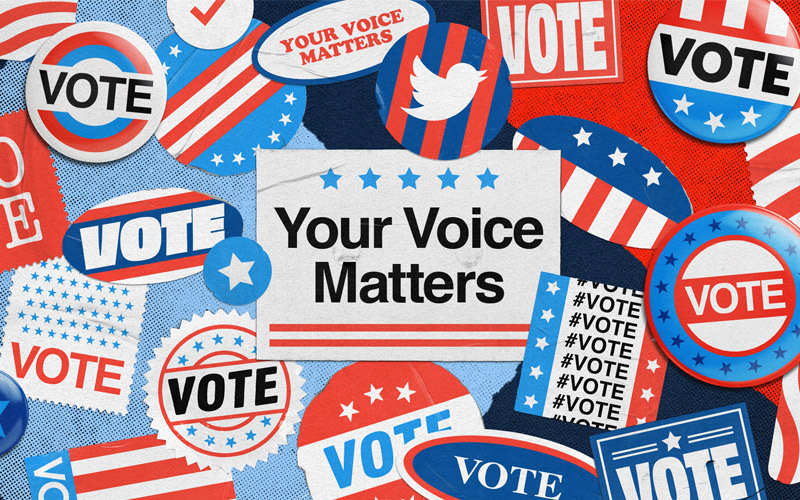 Civic integrity policy.

We don't allow anyone to use Twitter to purposefully manipulate or interfere in elections or other civic processes. Content that misleads people about things like when, where, or how to participate in elections or civic processes is against our rules. Read our global civic integrity policy for more information.
 
Candidate labels to let you know who is running for office.

Our election labels make it easier to identify US political candidates. They appear on the profile page of a candidate's Twitter account, and on Tweets and Retweets sent by the candidate's account. Labels include the office the candidate is running for, the state the office is located in, and (when applicable) the district number. Read more about this initiative on our blog.

We also have labels on Twitter to make it clear when you're interacting with an official government or state-affiliated media account.

We offer more context when we need to.

As part of our policies, we use labels on Twitter to add context to disputed or misleading claims, and we also reduce the visibility of these Tweets in order to reduce potential harm. Additionally, through our synthetic and manipulated media policy, we add labels to content that deceptively promotes synthetic or manipulated media.
Check out our blog for a more in-depth explanation of our approach to manipulated media labels.
 
Keep tabs on what's happening.

For everyone in the United States, we've launched our new election hub right in the Explore tab. There you can find:
Twitter Moments in English and Spanish

Live streams of debates and other major election events

A breakdown of labeled candidates for US House, US Senate, and governor by state

News and resources state-by-state
Get more details in our blog post.
 
You won't see political or state-media advertising on Twitter.

In 2019, we globally stopped all political advertising on Twitter. This commitment is born out of our fundamental belief that political speech should be earned, not bought. Read the full announcement on our blog and Jack's Tweet thread:
We keep you informed.

We partner with news organizations, journalists, and election officials to bring you live events and updates from official sources when it matters most. Follow @TwitterGov and never miss what's happening in government and elections worldwide.
We also offer these partners training and support, so we make sure you're seeing quality election content––and context––on Twitter.
 
We empower our employees and collaborate with civic leaders.

For our service to truly show up for the public conversation around election integrity, we know it has to start with us. We encourage our employees to register to vote and to understand voting options like early and mail-in voting. National election days around the world are paid holidays so Twitter employees can participate in elections, while ensuring the teams responsible for our service's security can continue their vital work on these days.